Top 5 Players Who Rejected Real Madrid
5 players who rejected Real Madrid? Top 5 players who rejected Real Madrid? World-Class 5 players who chose not to join Real Madrid? Here we look at the top 5 players who rejected Real Madrid.
Real Madrid has been home to many world-class players. From the likes of Zinedine Zidane, Roberto Carlos, Cristiano Ronaldo, Ronaldo Nazario and many more, there also have been several who turned down a chance to join them.
While every player dreams of playing for Real Madrid at some point of their careers, there have been moments where other teams chimed in with better offers. From joining rival outfits to eventually come back and hurt them, we will take a look at the 5 biggest stars who refused to join Real Madrid.
We have been blessed with plenty of star players over the past few years but we will take a look at some who truly could have impacted the Galacticos squad at the time. Their significance in world football is taken into consideration when making this list.
Top 5 World-Class Players Who Rejected Real Madrid
Real Madrid's greatest asset is their history of star talents. Almost whoever dawns the glorious whites on their chest, come to reach the highest points of their career. There is a certain aura around playing for the biggest clubs but not everyone can be bought with money, glamour and the promise of success.
Some players are just there who are far too loyal to be switch sides. Here are the top 5 players who rejected Real Madrid –
5. Francesco Totti
View this post on Instagram
Francesco Totti's biggest legacy will be that of an AS Roma. An outstanding striker with the technical boot to rival the world's very best. Manchester United, Barcelona and Real Madrid very famously wanted to prize him away but he refused them all.
The Italian admitted publicly that the only team he would have signed for except Roma would have been Real. But unfortunately, not one of Florentino Perez's three attempts were entertained by Totti. He went down as Perez's dream signing that just never happened. Many still think what Totti's career could have been had he left for adventures abroad.
Perhaps a Balon d'Or was in his books but definitely several more trophies. In terms of world-wide recognition, he already has it!
4. Gianluigi Buffon
View this post on Instagram
Gianluigi Buffon reached legendary status when he managed to rank as the world's very best goalkeeper for nearly two decades. When Juventus saw themselves relegated in 2006, Real Madrid had the golden opportunity to sign him. Zlatan Ibrahimovic, Fabio Cannavaro and Emerson – all of them left but the Juve custodian remained.
When Real's offer came in, Juve did not come in his way. Buffon himself decided to see his club through the rough patch and boy, did he get rewarded for it.
3. Luis Suarez
View this post on Instagram
Luis Suarez is perhaps the player who might not have overturned Real's fortunes but he did dish out a lot of pain over the past decade. During the summer of 2014, the forward was set to leave Liverpool.
Both Real Madrid and Barcelona were after him as his World Cup hopes died that year following a biting incident with Giorgio Chiellini. He faced suspension for two months but neither of Spain's big boys backed off from signing him.
Real had a convincing offer in place but Suarez decided to end up with the Blaugrana due to their support following the behavioural incident. He later stated that his dream was to play for Barcelona only.
2. Steven Gerrard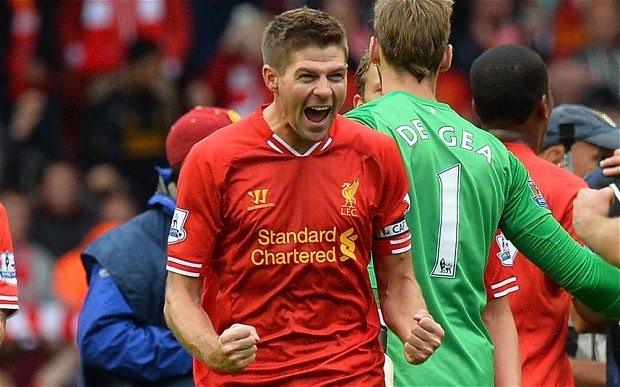 Steven Gerrard is another footballing legend who could not be prized out of his boyhood club. An everpresent image of Gerrard manning the Liverpool midfield still shines in supporters' eyes. The Englishman truly was a sensational player in his prime, capable of doing everything in midfield
Zinedine Zidane suggested Real Madrid to go after him in 2004. Gerrard refused their offer and went on to lead Liverpool to a Champions League triumph the next year. In 2010, Madrid came in with another lucrative deal but Gerrard decided to stay and fight for the Reds. The midfielder takes pride in turning down Real as should any footballer.
1. Neymar
View this post on Instagram
If it were not for Neymar, Barcelona would not have regained their dominant best after Pep Guardiola's departure. The Brazilian was the hottest prospect in 2012/13, lighting up the domestic league with his astonishing skills.
Real wanted to sign him when he was just 13. As he developed to exactly what they had hoped, they wracked up their interest in him in 2013. Neymar was being peppered with offers from every corner of the world but only two clubs realistically had a chance of signing him – Barcelona and Real Madrid.
After a lengthy bidding war, Barca won his signature purely based on footballing reasons.
READ MORE: