5 Real Madrid games that came down to the final moments
Real Madrid is arguably the most iconic football club on the planet, largely because of Florentino Perez's Galacticos and the Spanish team's absurdly successful run in the Champions League. Some of the greatest players of all time have played for Los Blancos, and you can see exactly why.
From Cristiano Ronaldo to Zinedine Zidane and Ronaldo Nazario, Real Madrid has consistently sought out the best footballers in the world. Aside from the status this provides, it has also aided in several last-minute wins over the years, as pure quality eventually shines through.
There is very good reason that Madrid has won a record-breaking 14 Champions League trophies, with many of these triumphs coming right at the last minute.
From the astonishingly late equalizer from Sergio Ramos against Atletico Madrid to Rodrygo's last-gasp winner against Manchester City, there are many 11th-hour goals to choose from.
Aside from being moments of pure elation for Madristas worldwide, these last-minute comebacks have also been fantastic (or awful) for sports bettors. Real Madrid's astonishing, staggering comeback versus Manchester City recently is a perfect example.
The best betting apps nowadays offer live in-game betting, something risk-takers and intuitive football experts are increasingly using to bet on comebacks the bookies couldn't possibly predict.
These platforms also provide numerous bet types alongside regular bonus promotions. We all know how good Real Madrid is at staging last-minute comebacks, and betting on them can make the action even more intense.
We've whittled down the five most exciting and vital Real Madrid games that came down to the final moments. Keep reading for the lowdown.
2014 Champions League Final vs Atletico Madrid
Out of all the memorable Real Madrid comebacks, the 2014 Champions League Final is right at the top of the list. Not only were Los Blancos playing against their fierce rivals Atletico Madrid, but it was also a chance to win a record-breaking 10th Champions League title.
It was Carlo Ancelotti's fourth final overall, but first with Real Madrid. The tenacious and fiery Diego Simeone sat in the opposite dugout, hoping to repeat his success in La Liga and walk away with a Champions League trophy.
Fresh from destroying Bayern Munich 5-0 on aggregate, Real Madrid was the slight favorite. Atletico couldn't be written off either, knocking out AC Milan, Barcelona and Chelsea on the road to Lisbon 2014.
Real Madrid was clearly stronger on paper, with Cristiano Ronaldo, Gareth Bale and Karim Benzema all recovering from injury in time to play. While Simeone's starting eleven didn't have the same number of superstars, the Argentine instilled fierce team cohesion.
Diego Costa left the pitch due to injury in the ninth minute, stacking the odds even higher against Atletico. However, Diego Godin scored from a corner in the 36th minute to give them the lead.
If there's one thing you don't want against Simeone's Atletico Madrid, it's chasing a lead. Real Madrid was continuously frustrated by the resilient low block, failing to find a way through despite 10 shots on goal in the second half.
Things weren't looking good for Ancelotti's team, but then something of a miracle happened. Deep into stoppage time, Los Blancos earned a corner. Luka Modric swung a peach of a ball into the box, finding the head of Sergio Ramos.
Time stopped momentarily as all eyes were fixed on his looping header before the stadium erupted as it hit the left corner of the net. Real Madrid had saved themselves from defeat with quite literally the final kick of the game, and more bad news for Atletico Madrid was to come.
Buoyed by the last-minute goal, Real pressed on during extra time to score three goals in the last 10 minutes and create a three-goal lead. By the time Ronaldo had scored a 120th-minute penalty, it was as good as over.
Neither set of players could believe their eyes at the final whistle. It was by far the craziest last-minute Champions League Final equalizer, and the fact it came against bitter rivals Atletico Madrid made it all the sweeter.
2022 Champions League Semi-Final 2nd Leg vs Manchester City
Although the 2014 Champions League Final is arguably Real Madrid's most memorable game that came down to the last minutes, their 2022 semi-final versus Manchester City is another that cannot be ignored.
Los Blancos have a special kind of magic in the Champions League. They came into the 2nd leg against Manchester City trailing 4-3, and after Mahrez's 73rd-minute goal, the gap opened to 5-3 on aggregate.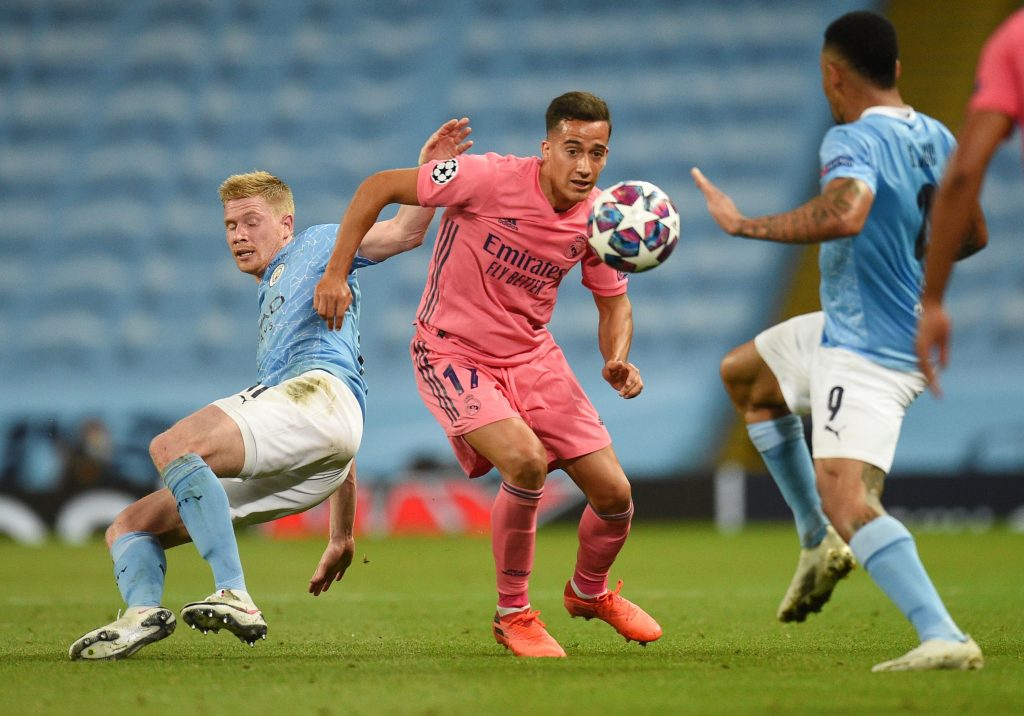 City was cruising, but then the impossible happened. Rodrygo showed why Ancelotti has no need for more signings this summer, scoring two stoppage-time goals to take the game to extra time.
The Bernabeu stadium went into rapture, and Benzema added to the frenzy with a 95th-minute penalty to put Madrid in the lead. Ancelotti's men saw the rest of the game out, breaking City's hearts and pulling off yet another ridiculous last-minute Champions League comeback.
2022 Champions League Final vs Liverpool
Although Real Madrid has proved themselves more than able to stage a last-minute comeback, they are also masters of holding on to a slender lead against the odds. Fresh from their outstanding comeback against Manchester City, Los Blancos met Jurgen Klopp's Liverpool in the 2022 Champions League Final.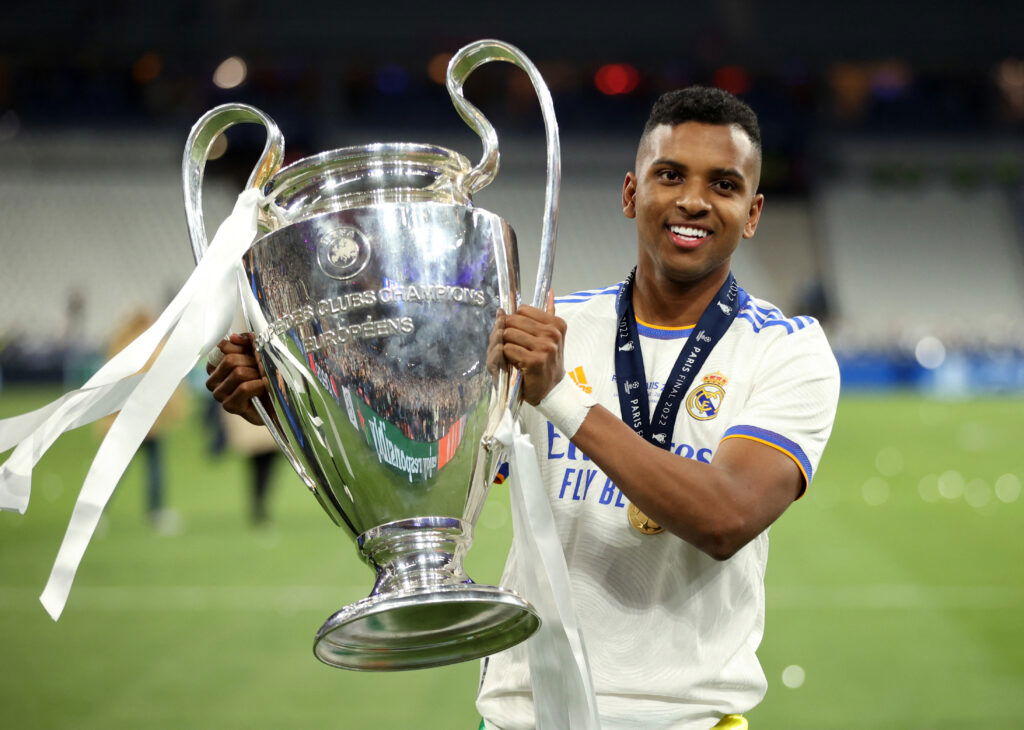 The Reds were widely regarded as the favorites, starting the match on the front foot. If it wasn't for Thibaut Courtois' goalkeeping exploits, Liverpool could have been one or two goals up by half-time, but it wasn't to be for Mane, Salah and company.
As the game settled, Real Madrid grew more dominant. Fresh from changing the game against Manchester City, Rodrygo popped up again in the 59th minute to slot away the winner. Madrid was ahead, but they would have to come up with some memorable rearguard action to seal the deal.
Courtois denied Salah, Mane and Diaz time and time again, becoming a genuine brick wall between the sticks. Liverpool threw everything they could at Madrid in the final minutes, but Los Blancos held firm to win a 14th Champions League title.
2016 La Liga vs Barcelona
El Clasico is undeniably the world's most significant and iconic football derby. Although some have been resolutely one-sided, others have gone right down to the final moments. The 2016 El Clasico will live in the hearts of Madrid supporters for quite some time.
Barcelona came into the game on a 39-game unbeaten streak and a 10-point lead at the top of La Liga. They were understandable favorites at the Nou Camp but struggled to turn their superiority into goals.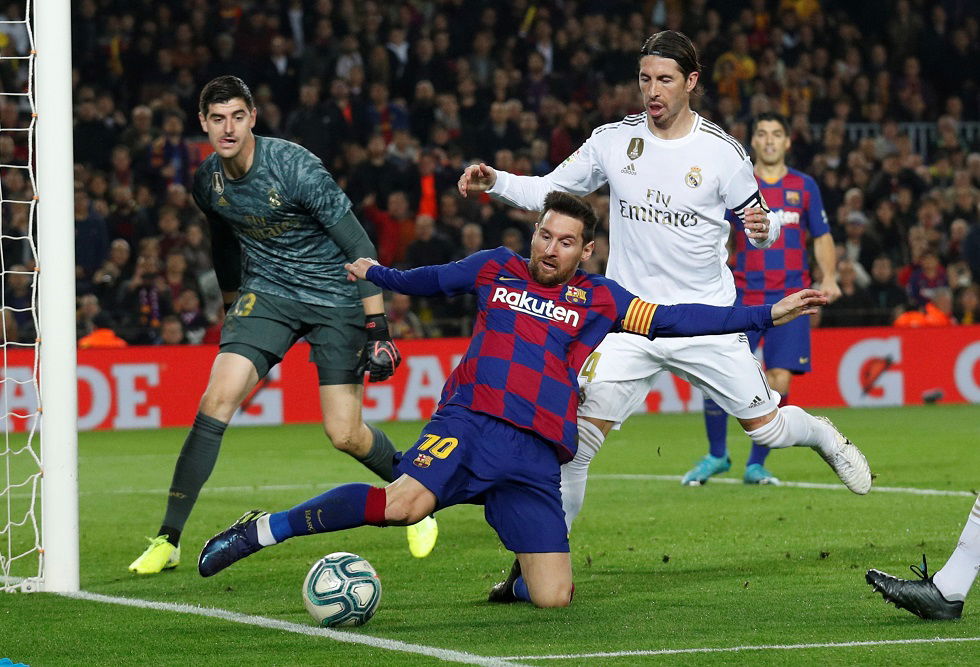 Gareth Bale thought he had scored in the 80th minute before having his header ruled out for an alleged push. However, five minutes later the Welshman provided a scintillating cross for Cristiano Ronaldo, who was never going to miss.
It was an 85th-minute winner that finally broke Barca's long unbeaten streak in La Liga, also proving to be the catalyst for Madrid's resurgence the season after.
2016 UEFA Super Cup vs Sevilla
Real Madrid met their Andalusian counterparts Sevilla in the 2016 UEFA Super Cup, enjoying yet another unbelievable last-minute equalizer from Sergio Ramos. He had saved Los Blancos in the very last minute against Atletico two years prior, and the legendary defender did so again here.
Ramos found space in the 93rd minute, turning away Lucas Vasquez's cross to level the score to 2-2. Madrid seemingly can't lose in extra time either, with Dani Carvajal scoring a last-minute winner in the 119th minute.
See More: