Real Madrid U-21 Team- Squad 2022/23
Real Madrid U-21 team. Real Madrid B squad 2022-23.
Who are the stars in the Real Madrid U-21 Team? How many Real Madrid U-21 Team prodigies do you know? How many of these extremely talented u-21 Real Madrid team players will make it to the first team? Watch & Bet Football Here =>
What do we know about Real Madrid u-21 team? How are the players who play for Real Madrid u-21 team? How many of the Real Madrid u-21 squad players do you know? Let us delve a little into the past to know about them.
Real Madrid is one of the most widely supported teams in the world, and the club has one of the largest social media following in the world among sports teams.
Yes, Real Madrid does spend a lot of money on signing players. But what most people overlook is the strength of Real Madrid's academy, which has produced some of the finest players of all time who have established a name for themselves in football history. Real Madrid's youth system, La Fabrica, which translates as "The Factory," has produced luminaries like as Iker Casillas, Raul, Michel, Guti, Alvaro Arbeloa, Chendo, Manolo Sanchis, Emilio Butragueno, Vicente Del Bosque, and many more.
According to the CIES football observatory, Real Madrid has the most academy alumni playing for different teams in the top-5 European leagues while also having the greatest academy in Spain. Even today, the current first-team roster contains academy graduates like as Dani Carvajal, Nacho, Lucas Vazquez, and Mariano, as well as players with Real Madrid Castilla experience such as Casemiro, Rodrygo Goes, Martin Odegaard, Fede Valverde, and Vinicius Jr.
La Fabrica's quality has always been questioned, and academy authorities have worked tirelessly over the years to continue creating some exceptional players that can adapt to any system. And with a manager like Raul at the helm, the current Castilla team is on its way to high heights.
Here is the Real Madrid U-21 Team 2019/2020 squad
Real Madrid U-21 Team
| Kit No# | Player | Position | Age |
| --- | --- | --- | --- |
| 1 | Luis López | Goalkeeper | 21 |
| 2 | V. Tobias | Right Back | 19 |
| 3 | R. Marín | Centre-Back | 20 |
| 4 | Á. Carrillo | Centre-Back | 21 |
| 5 | Pablo Ramon | Centre-Back | 21 |
| 6 | Mario Martin | Central Midfield | 19 |
| 7 | Theo Zidane | Central Midfield | 20 |
| 8 | Carlos Dotor | Central Midfield | 22 |
| 9 | Noel Lopez | Centre-Forward | 20 |
| 10 | Sergio Arribas | Attacking Midfielder | 21 |
| 11 | Peter Gonzalez | Right Winger | 20 |
| 13 | Lucas Canizares | Goalkeeper | 20 |
| 14 | Alvaro Martin | Left Winger | 22 |
| 16 | Pipi Nakai | Attacking Midfielder | 19 |
| 17 | Alvaro Leiva | Second Striker | 18 |
| 18 | Javi Villar | Central Midfield | 20 |
| 19 | Marvel | Centre-Back | 20 |
| 20 | Alvaro Rodriguez | Centre-Forward | 18 |
| 21 | Iker Bravo | Centre-Forward | 18 |
| 22 | Oscar Aranda | Left Winger | 20 |
| 24 | Mario de Luis | Goalkeeper | 20 |
| 25 | Rafel Obrador | Left Back | 19 |
| 26 | Edgar Pujol | Centre-Back | 18 |
| 29 | Alex Jimenez | Right Back | 17 |
| 32 | Nico Paz | Central Midfield | 18 |
Players who have cracked the first team
Pablo Ramon (Centre-back) -Real Madrid U-21 Team
It took some time for him to break into Raul's starting XI, but once he did, there was no stopping him. He played an important part in the team's playoff run, which provided him with several opportunity to practise with the first squad. He was also included to the matchday squad for two LaLiga games, although he did not get to make his debut. However, given his skill set and the anticipation around Ramon, a first-team debut may not be far away.
The reason Ramon is regarded as Castilla's top center-back is straightforward: He is Castilla's most complete center-back. He possesses exceptional speed, strength, and technique, as well as some exceptional talent.
Alvaro Rodriguez (Centre-Forward)-Real Madrid U-21 Team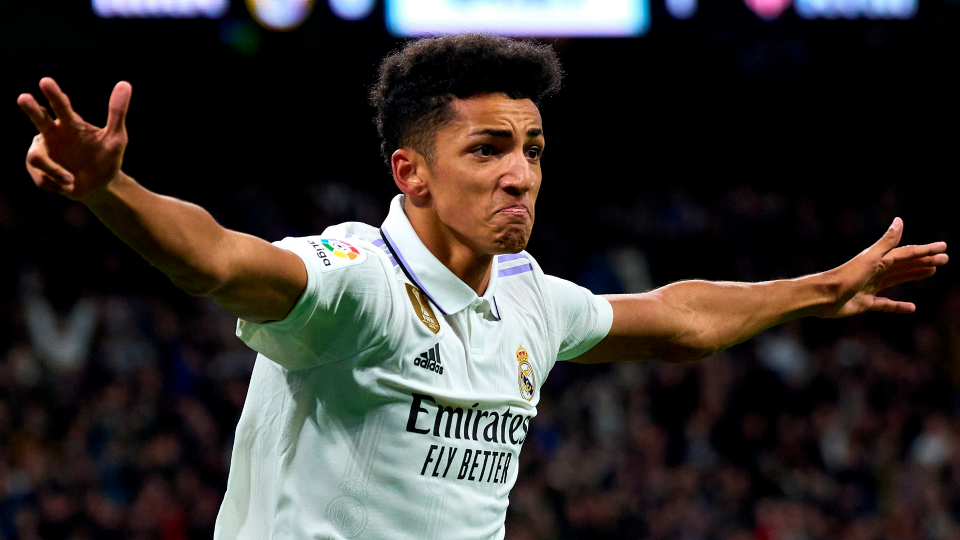 Alvaro was born in Palamós, Spain, on July 14, 2004. He is the child of a Spanish mother and former Uruguayan international footballer Coquito.
At the age of six, Alvaro joined the local academy C.F. Global Palamós to begin his childhood career. He spent a year at CEF Gironès-Sàbat before joining Girona FC's development programme. He stayed there for five years until joining La Fábrica at Real Madrid, where he won the 2022 Copa del Rey Juvenil. Lvaro debuted for Real Madrid Castilla on October 24, 2021, as a substitute in a 3-1 loss at Atlético Sanluqueo after making an impression with the Juvenil teams.
On January 8, 2022, against FC Andorra, he would make his first start for the reserve team and tally his first goal as a professional. On October 22, 2022, Alvaro received his first call-up to the senior team. He sat on the bench as his team defeated Sevilla 3-1 in La Liga. On January 3, 2023, he made his senior squad debut in a 1-0 Copa del Rey victory over Cacereo.
On February 19, 2023, he made his La Liga debut for Real Madrid in a 2-0 victory over Osasuna, providing the late assist after another was flagged for offside. He scored his first La Liga goal on February 25 in a 1-1 draw with Atlético Madrid.
Sergio Arribas (Centre-Midfielder)- Real Madrid U-21 Team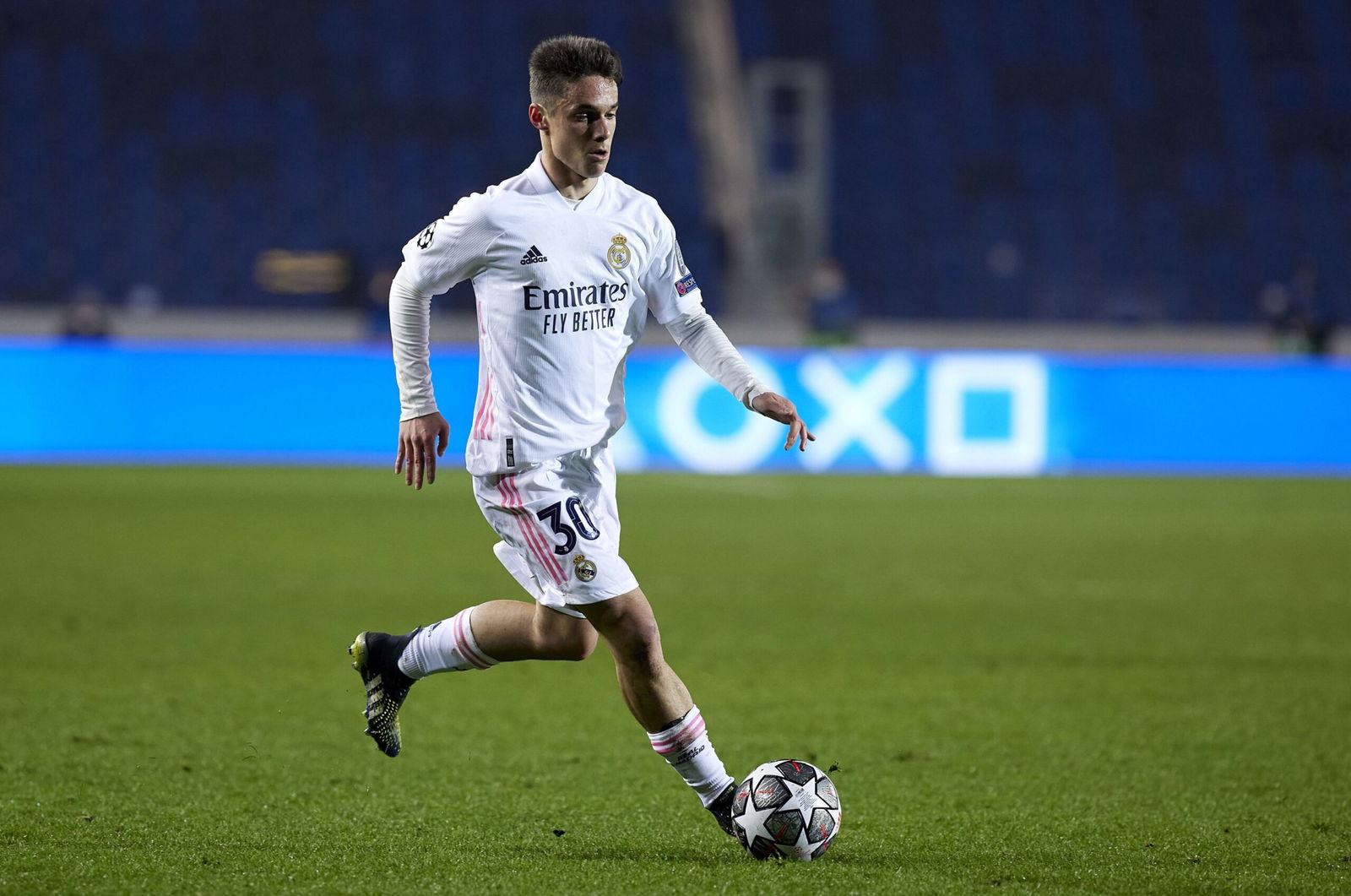 Real Madrid Castilla's centre midfielder, Sergio Arribas Calvo (born September 30, 2001), is a professional football player from Spain.
Arribas, a Madrid native, joined La Fábrica of Real Madrid in 2012 after playing for CD Leganes and CDE Benito Perez Galdos. He was promoted to the reserves in Segunda División B in September 2020 after helping the under-20s win the UEFA Youth League.
On September 20, 2020, Arribas made his first team and La Liga debuts after replacing Vincius Junior late in a 0-0 away tie against Real Sociedad. On December 9, 2020, he made his Champions League debut as a substitute in a 2-0 victory over Borussia Mönchengladbach. In a 4-1 victory over Al Ahly at the 2022 FIFA Club World Cup on February 8, 2023, he scored his first goal with the first team.
Nico Paz (Centre-Midfielder)-Real Madrid U-21 Team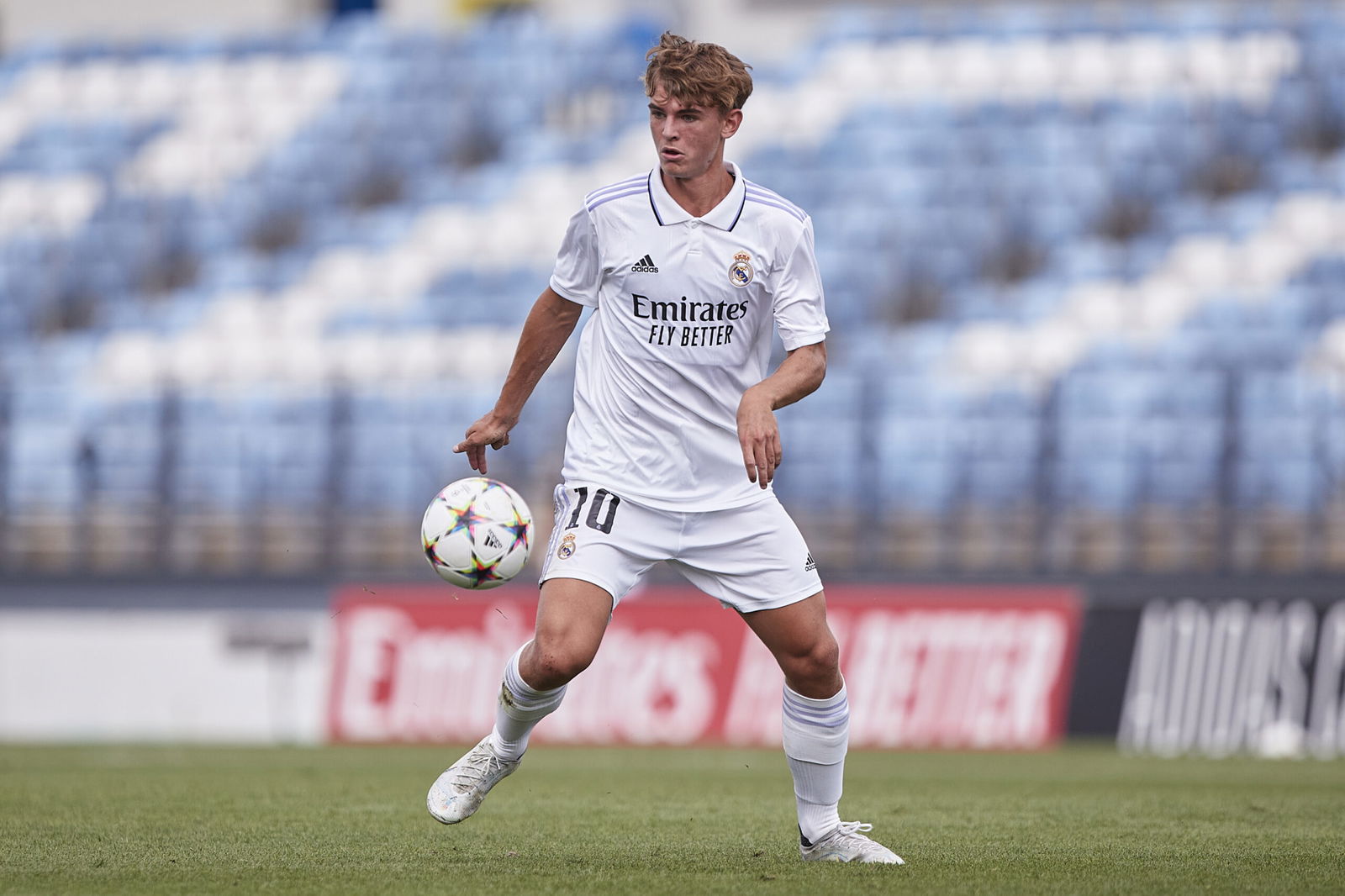 Football player Nicolas "Nico" Paz Martnez, who was born on September 8, 2004, is now a midfielder for Real Madrid Castilla. He is a young international for Argentina and was born in Spain.
Paz, a CD San Juan and Tenerife youth product, joined Real Madrid's La Fábrica in 2016.
Paz began his career as a central defence but advanced up the pitch as he got better. He started out as a Centre-Forward but now plays on the wing for the under-19 team. He is equally at ease playing as a playmaker or Central Midfield.
In a 3-1 victory over Andorra in January 2022, he made his Real Madrid B squad debut, replacing Iván Morante in the 82nd minute.