Real Madrid stadium 2023
Real Madrid stadium 2023? Which is Real Madrid's home stadium? Watch & Bet Football Here =>
Santiago-Bernabeu Stadium has been the home stadium of Real Madrid since its completion in 1947. With a seating capacity of 81,044. it is the second-largest stadium in Spain and third-largest in Europe and one of the largest football stadiums in the world in capacity.

Real Madrid stadium glory
This stadium hosted the four Champions League finals (1957, 1969, 1980, 2010). It also hosted the second leg of the Copa Libertadores Finals 2018, making Santiago Bernabéu the first and only stadium to host the two most important premier continental cup finals.
The European Nations Cup 1964 was also held in this stadium. Bernabeu hosted FIFA World Cup 1982 final. They became the first stadium in Europe to host both a UEFA Euro final and FIFA WC final.
Real Madrid stadium history
Architects Manuel Muñoz Monasterio and Luis Alemany Soler started the construction on 27 October 1944. It was inaugurated on 14 December 1947 with a match between Real Madrid and the Portuguese club Os Belenenses. The stadium had an initial capacity of 75,145 spectators, 47,500 of which had standing fans. Sabino Barinaga was the first player to score in the new stadium.
Real Madrid stadium name
| | |
| --- | --- |
| Full name | Santiago Bernabéu Stadium |
| Former names | Estadio Real Madrid Club de Fútbol (1947–1955)  |
Real Madrid stadium capacity
| | |
| --- | --- |
| Capacity | 81.044 esp. |
| Record attendance | 129,690 (Real Madrid v. Milan, 19 April 1956) |
Real Madrid stadium architect
The architects of new stadium of Real Madrid are Manuel Muñoz Monasterio Luis Alemany Soler Antonio Lamela (Expansion). Watch & Bet Football Here =>
Real Madrid stadium design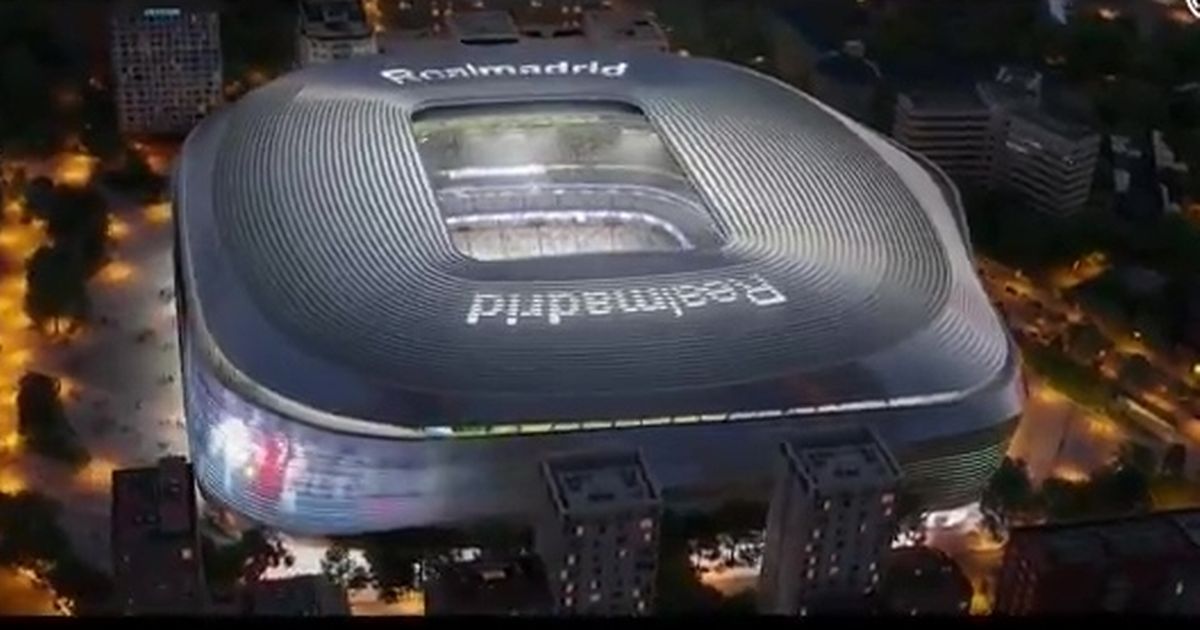 Real Madrid stadium plans
When Florentino Pérez became the president of the club, he took the initiative to improve the comfort of the Santiago Bernabéu and the quality of its facilities.
He invested €127 million in five years (2001–2006) and gave an expansion to the stadium with new boxes and VIP areas, new dressing rooms, a new press area, new bars, panoramic lifts, and so on.
The capacity of the Santiago Bernabéu was expanded to 80,354, all seated. It's 1000th match was played in 2007 and UEFA decided to give the Santiago Bernabéu elite stadium status, a month before the celebration of the 60th anniversary of the inauguration of the stadium. In 2011, around 1,000 seats were added and it brought the stadium to its current capacity, 81,044. In 2017, Real Madrid and Microsoft launched the first interactive audioguide for the Bernabéu Tour.
Real Madrid stadium cost
| | |
| --- | --- |
| Built | 1944–1947 |
| Opened | 14 December 1947 |
| Renovated | 1982, 1992, 1994, 2011 |
| Construction cost | €1,732,943 |
| Architect | Manuel Muñoz Monasterio Luis Alemany Soler Antonio Lamela (Expansion) |
Real Madrid stadium location
Address:
Avda. de Concha Espina 1,
28036; Madrid – España
BUSES
14, 27, 40, 43, 120, 126, 147 y 150.
Seat Access:
The entrance ticket includes such information:
Puerta (Gate): Gates to get inside the stadium, sectors and seats.
Vomitorio (Vomitorium): Designates the passageway leading to the stands, grandstands and tiers of the stadium
Sector: corresponding to your seat's locality.
Fila (Row): located in the sector, the row is marked on the stairs with a blue plaque.
Asiento (Seat): even numbers are on one side and the odd ones on the other. Watch & Bet Football Here =>
Public Transport / Metro:
Santiago Bernabéu. L10
Train
Nuevos Ministerios

SEE ALSO: